3PL Distribution Facility Transitions to Automation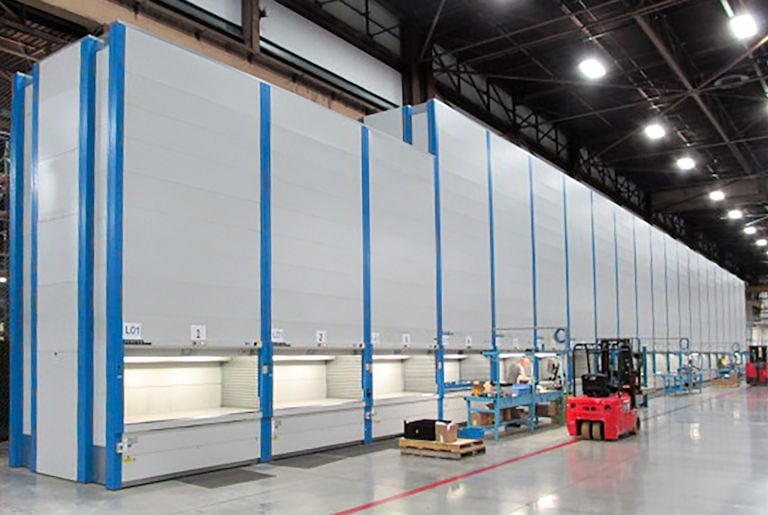 HCL Logistics in London, Ontario has been providing warehousing, transportation, and just-in-time delivery to defense contractors for decades. From tiny washers to 20-foot-long steel sheets to complete engines, they supply key components used by Canadian and allied forces around the world. Phasing in automation over time, HCL Logistics is now supported by 21 Vertical Lift Module Kardex Shuttles.
The initiative was driven by the need for better picking efficiency and improved material and people flow on the warehouse floor. "The way the warehouse was laid out, we were moving large products (i.e., vehicle engines) long distances for staging and shipping," says Van Holst, President HCL Logistics. They also wanted to reduce the number of forklifts on the warehouse floor, improve picking accuracy, maximize current warehouse space and create a more streamlined process.
The Solution
The warehouse transformation didn't happen overnight. HCL Logistics first test piloted two Kardex Shuttles to manage the kitting portion of a specific customer's contract. "Once the two units were installed, we used a 'wait and see' strategy to see how they would work for us," says Van Holst, who began to notice positive results soon after installation. Automating a manual picking environment, has made employees 10 times more efficient and data entry control nearly perfect.

"Based on the efficiencies and the space savings we gained, we grew the system from two units to 21 Kardex Shuttles," says Van Holst. Combined with narrow-aisle racking and a high-density pallet system the solution cut HCL Logistics' required warehouse space down by about 100,000 square feet. The 21 Kardex Shuttles take up just 1,000 square feet of floor space.
Inventory accuracy has also improved—from a previous 98% to a current 99.5%. Cumulatively, Van Holst estimates the solution could potentially save the company $3 million a year on adjustments and inventory alone. "It's not just about the picks, puts, and inventory accuracy," says Van Holst. "Cycle counts and physical inventory are also much faster now."
21

Kardex Shuttles

Kardex Power Pick System
Pick-to-light technology