Joanne Fabrics Finds Room To Grow Hardware Business with Shuttle XP VLMs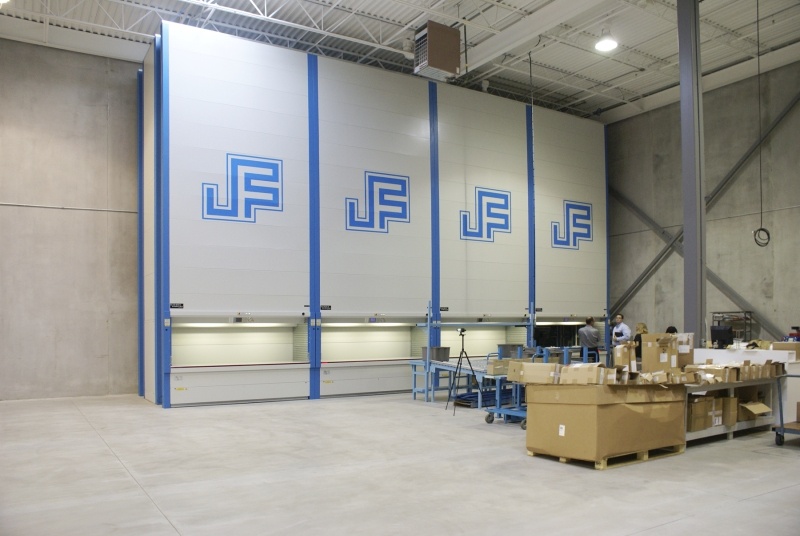 With room to grow, the Shuttle VLMs have allowed Joanne Fabrics to save 67% floor space while increasing capacity and productivity without adding labor.
Joanne Fabrics Inc. is a family owned and operated company that has been operating as a wholesaler and distributor of decorative fabrics for 35 years. After firmly establishing itself in the Canadian market, Joanne Fabrics successfully ventured into the United States under the name J.F. Fabrics Inc.
Joanne Fabrics distributes designer fabrics, wallpaper and decorative hardware from their 70,000 square foot facility in Toronto, Canada to retailers, designers, decorators, upholsterers, large department stores, hospitals, health care facilities, hotels, restaurants, furniture manufacturers, nautical and recreational vehicle manufacturers. Joanne selects, stocks and distributes fabrics from major mills around the world with a commitment to provide the highest level of quality and service.
No Room to Grow
With fabric sales steady, Joanne Fabrics looked to expand business into decorative hardware. The hardware line Joanne Fabrics introduced consisted of 1,100 hardware SKUs that were stored in the same shelving that held the fabric bolt SKUs. "Fitting a square peg into a round hole wasn't working," said Kim Hovesen Krasa, Vice President at Joanne Fabrics, "Picking the hardware we had was an inefficient and labor intensive process, and we needed to add more hardware lines." With hardware orders growing each year, Joanne Fabrics needed a solution to fill current hardware orders faster and add SKUs for new hardware lines.
Expanding Hardware
Joanne Fabrics implemented four Shuttle VLM's integrated with FastPic Inventory Management Software into their 55,000 square foot warehouse. The first two Shuttle VLMs were installed to manage the existing hardware line of 1,100 SKUs. With room to spare, Joanne Fabrics reduced the amount of floor space required from 600 square feet to 198 square feet, a 67% floor space savings. Looking to offer additional hardware lines, they installed two more Shuttle VLMs six months later. With four Shuttle VLMs in place utilizing the 30 foot ceiling height, Joanne Fabrics has expanded hardware inventory by 31% (to 1,600 SKUs) in only 395 square feet of floor space with no additional labor required.
Increasing Productivity & Maintaining Labor
Using the Shuttle VLMs orders are picked in half the time with only one worker required. Prior to upgrading to the Shuttle VLM's, orders took on average 10 minutes to pick manually. "Our 3pm order cutoff time is something our competitors cannot offer," said Hovesen Krasa, "The Shuttle VLMs allowed us to maintain our 3pm order cutoff time when expanding our hardware lines and growing business." Cutting the pick time in half has enabled Joanne Fabrics to meet growing customer demand without additional labor.
Near Perfect Accuracy
Joanne Fabrics order accuracy has increased from around 92%, to a near perfect 98% with the Shuttle VLMs. Using QuickPick™ TIC (transaction information center) Pick-to-Light Technology the operator is directed to the exact location to pick from using a light bar mounted on the front of the Shuttle VLM access opening. The TIC displays the location, part number, description and quantity of the item to be picked.
To further increase accuracy, the photo database feature in FastPic displays an image of the part for each transaction. "With the point and click software, pick to light direction and photo database, training new employees is no trouble at all," says Hovesen Krasa.
The Way It Was
Prior to the Shuttle VLMs, both fabric and hardware was stored on shelving. Using a paper pick ticket, the picker would walk and search through aisles of shelving 110 feet long and 10 feet high, travelling up and down, and moving from side to side on a rolling ladder, to pick orders. Using this system the picker fulfilled 3 orders at a time, with new orders received every 15 minutes.
New & Improved
Orders are initially received via the call center, online and by fax. They are then uploaded into their ERP system and pushed to FastPic every 15 minutes. Orders are filled in the order they were received. The picker places a tote for each order onto the batch station, up to six orders can be filled at a time. Each tote is scanned so the FastPic software can identify where on the batch station each order tote is located.
When the picker is ready, the VLMs rotate to bring the parts required for each order to the order picker. The TIC pinpoints the exact location of the part required; identifying the part number, description and quantity to pick. The worker picks the parts required, verifies the part with the photo displayed in FastPic, and turns to the batch of orders to distribute the part picked among the orders.
When all orders for the batch have been picked, each order is verified with a bar code scanner. Once verified the packing slip is automatically printed. If the order is complete, the picker delivers it to the shipping area. If the order requires additional parts from the fabric zone, the order is brought to a staging area to be matched up with the corresponding fabric required to complete the order.
A Bright Future
With room to grow, the Shuttle VLMs have allowed Joanne Fabrics to save 67% floor space while increasing capacity and productivity without adding labor. "We were very lean already, it's one of our founding principles," said Hovesen Krasa, "the Shuttle VLMs fit nicely into our already lean facility, simplifying processes and allowing us to do more without additional labor."
"We were very lean already, it's one of our founding principles, the Shuttle VLMs fit nicely into our already lean facility, simplifying processes and allowing us to do more without additional labor."